Why Do you Need to Dewater Poultry Manure in your Farm?
When you have more poultry manure in your farm but not to know how to dispose of them. SX can provide you a suitable advice – dewatering poultry manure. This step is very important. Because only after dewatering poultry manure can carry out subsequent processing.
How to Remove Excessive Moisture from your Poultry Manure?
How to dry poultry manure? Commonly, there are two types of dewatering machines for your choice.
Screw Dewatering Machine for Low Moisture Content Manure Processing
If you want to process poultry manure with low water content of 50%-90%, screw dewatering machine is the best choice for you. It adopts physical extrusion dewatering method, which can remove excessive water from manure in a short time. And after dewatering, the moisture content of your manure material will decrease to 30%-40%.
Inclined Screen Dehydrator for High Water Content Manure Drying
However, when you plan to compost manure which has high water content over 90%, it is wise to buy our inclined screen dehydrator. Before extrusion, inclined screen dewatering equipment will separate solid from liquid. Hence,it can dry high water content poultry manure more effectively. And the separation rate can reach 95%.
After Granulation to Dry Poultry Manure Fertilizer
If you want to get more profits from poultry manure, the best way is to make them in to granules. When you use wet granulation method, you need to dry poultry manure pellets after granulation. For this, what equipment can be used in fertilizer dryer line after granulation?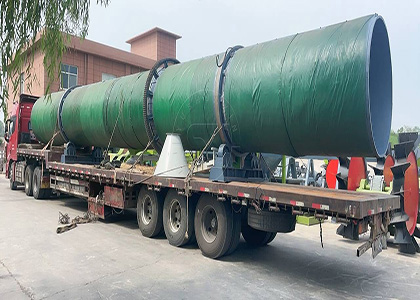 Rotary Drying Machine
In this process, rotary drum dryer is your best option, especially pan granulation and rotary drum pelleting. Compared with dewatering equipment, it relies on high temperature to process manure. The temperature in drying drum can reach 300℃, so rotary drying machine can further reduce the moisture content of manure fertilizer pellets to a lower level, about 10%.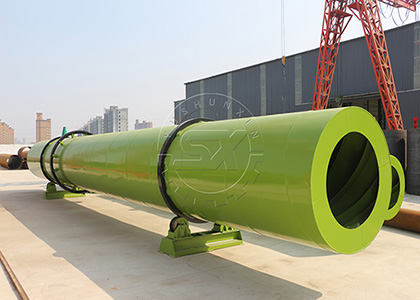 Rotary Cooling Equipment
Can we directly package poultry manure fertilizer after rotary drum drying? No,we cannot. After rotary drying of poultry manure, the temperature of final organic fertilizer is about 30°C – 40℃. Which will affect the quality of your manure organic fertilizer and is not suitable for bagging and storing directly. So there is rotary cooling machine designed for you. It can reduce the excessive temperature of manure fertilizer quickly.
How to Make it Easier for you to Transport and Store Final Dried Fertilizer?
In the fertilizer dryer line, the last machine is package machine. It can help you transport and store the final dried fertilizer. For this, there are three types of automatic packaging machine for your choice.
Small Scale Single Bucket Automatic Bagging Machine
If you only plan to start a small scale organic fertilizer making preparation, out single automatic bagging machine is your best option. As the name suggests, this machine only has one feeding port. But it can fully meet the requirements of small quantities fertilizer packaging. Moreover, it has advantages of integrated structure (packing + sealing), small area coverage, low cost, etc.
Medium Double Buckets Auto Packing Scale
However, when you need a packager for larger scale organic fertilizer manufacturing plan, it is an ideal choice to purchase double buckets auto packing scale. It can process fertilizer with two ports simultaneously. That is, you can complete the fertilizer packaging in only half the time.
Large Scale Ton Packaging Equipment
Then if we want to pack organic fertilizer into bag with a capacity over 1 ton, is there suitable equipment? Of course. For this, SX design ton packaging equipment, which can package 500-2,000 kg per bag. In addition, it has a high degree of automation and high packing precision. The packing speed can be adjusted. And it adopts a unique hydraulic lifting system,which makes large scale fertilizer packaging easier.
What is the Cost of Fertilizer Dryer Line?
After deciding what equipment is used in your fertilizer dryer line, it is time to purchase it for your organic fertilizer manufacturing line. In this process, the cost is an item you must pay attention to. Then where to buy the fertilizer dryer line at a low cost? You can choose SX Engineering Equipment Co., Ltd. The price of SX fertilizer dryer line is $20,000-$250,000. Why SX can provide you with manure drying machines at a favourable price? For one thing, we are a leading fertilizer equipment manufacturer and we have the strength to provide you with drying machines at a low cost. For another, we are a source factory for manure fertilizer equipment manufacturing. So there is no extra charge during the transaction.
Let us Design for Your Project