How to Dispose of Bio NPK Materials in Brazil?
The customer from Brazil wanted to know how to dispose of bio NPK materials. Because improper handling of these materials will lead to the generation of harmful gases and impurities, pollute the production environment and affect the quality of the final fertilizer. For this, we introduced the bio NPK materials disposal process to him in detail.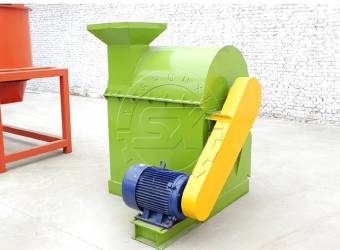 Crushing Material with Bio NPK
Next, the most important step, crushing materials into fine powder bio NPK fertilizer. The finer the powder, the better the quality. But they have high moisture, so choosing semi-wet material shredder is an excellent option.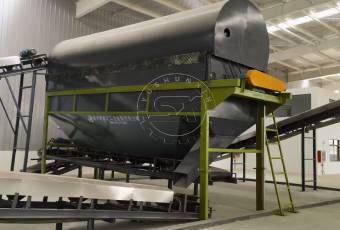 Bio NPK Materials to Screening
In addition, screening also plays an important role in bio NPK fertilizer production. Rotary screener can remove waste, like stones, cigarette butt, etc from powder bio NPK fertilizer. So the purity of final fertilizer is improved.
Tips: We told the customer from Brazil that if he wanted powder bio NPK fertilizer, it can be packed directly after sieving. If he wanted granular fertilizer, he needed to use other fertilizer equipment.
What Equipment is Used in Bio NPK Granules Plant in Brazil?
Then after disposing of materials, we continue to introduce the equipment used in the production of granular bio NPK fertilizer to Brazilian customer.
Bio NPK Fertilizer Granulator
Because the customer from Brazil is not sure about his output, so we recommended him two granulators suitable for small output and large output for him to choose. Pan pelletizer or rotary drum granulator. The former has a granulation rate of 93% and can process 1-8 mm with a higher hardness and small scale. However, you need a more large capacity bio NPK fertilizer pelletizer, you can choose the latter. They both adopt wet granulation method, you can choose them according to your requirements.
If you use the above granulation equipment to make bio NPK fertilizer, dryer and cooler is necessary. They can reduce the moisture content of bio NPK fertilizer pellets to below 10%. This means lower possibility of pulverization, So the produced bio NPK fertilizer is more convenient for transportation and storage.
In granular bio NPK fertilizer manufacturing process, coating machine is essential. For one thing, it can be used to add a protective film to the pellets. This makes bio NPK fertilizer have a longer storage time and effect. For another, you can use it to add biology.
What are the Benefits that SX Bio NPK Fertilizer Equipment Can Provide You?
Finally, we introduced the benefits to the crops of the bio NPK fertilizer produced by SX fertilizer equipment to our Brazilian customer.
Improve product quality and reduce harmful accumulation. Due to the dual effects of the live bacteria in the bio NPK fertilizer and the fertilizer-preserving synergist, it can promote the conversion of nitrate in crops and reduce the accumulation of nitrate in agricultural products. Compared with the application of chemical fertilizer, it can reduce the nitrate content in the product by 20- -30%, increase the VC content by 30- -40%, and increase the soluble sugar by 1-4 degrees. The product tastes good, keeps fresh for a long time, and is resistant to storage.
Let us Design for Your Project